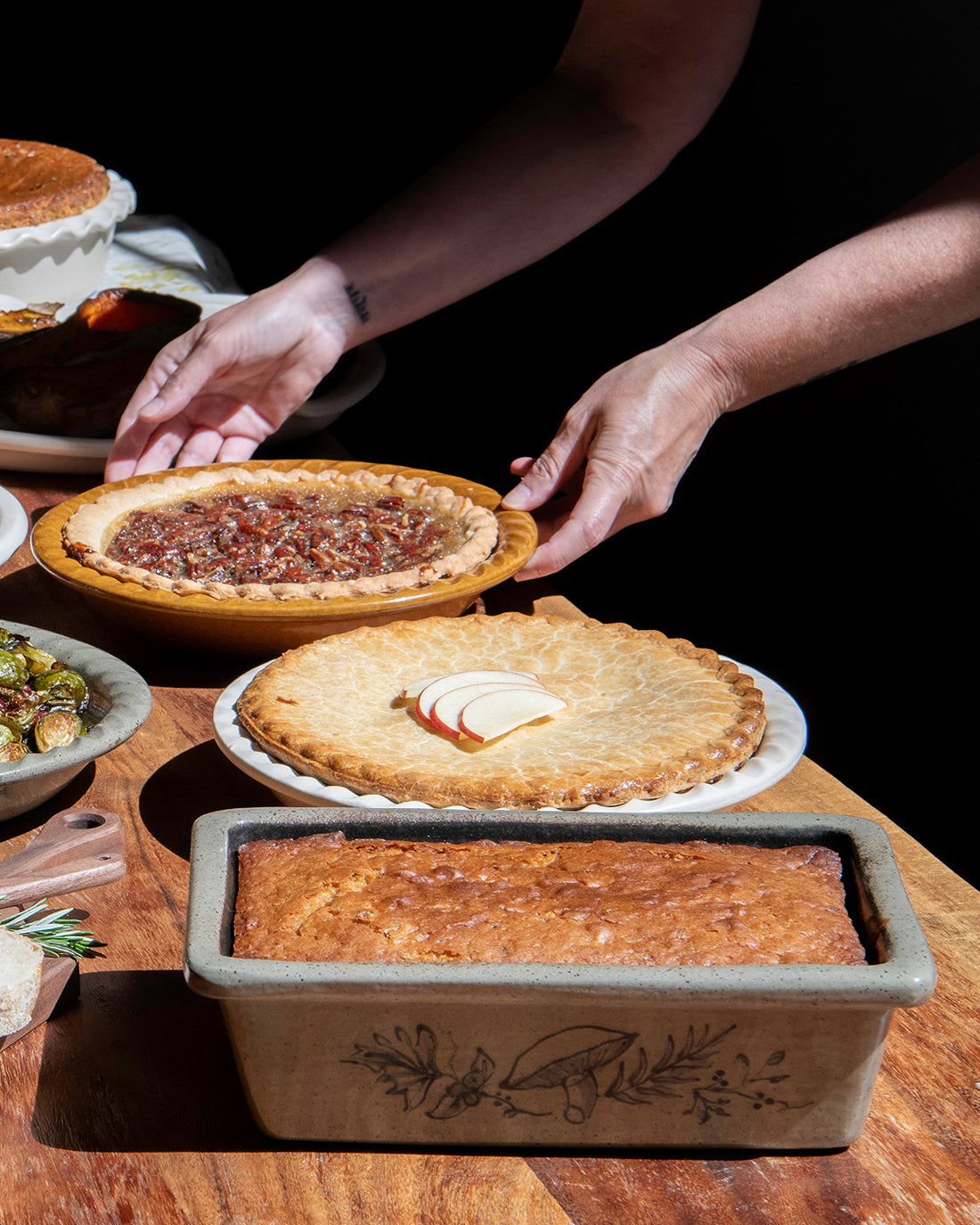 Unlocking the Magic of Ceramic Bakeware: A Fall Harvest Affair
The holiday season is upon us, and what better way to embrace the warmth and magic of gatherings than with the artistry and functionality of ceramic bakeware? At the heart of our kitchen, we've introduced a new Fall Harvest motif, a nostalgic nod to the timeless pieces that graced our tables in the 70s and 80s. Picture mushrooms, wheat, birds—each detail meticulously added by hand, ensuring no two pieces are alike, much like the unique individuals who come together around the table.

Craftsmanship that Tells a Story

These pieces aren't just beautiful; they're a testament to craftsmanship. Each vessel undergoes a meticulous process—painted individually and fired in the kiln. What emerges is a pure masterpiece that transcends functionality and becomes a cherished part of our holiday traditions. As we prepare to set the table for our loved ones, these ceramic wonders bring a touch of handmade elegance, reminiscent of the love and care that goes into family gatherings.

Functionality that Speaks Volumes

Stoneware, the hero of our ceramic bakeware, possesses qualities that elevate it above the rest. Baking with stoneware ensures even heat distribution, creating culinary masterpieces that are as delightful to the taste buds as they are to the eye. From cold to warm, these versatile pieces transition seamlessly, promising a stress-free cooking experience during the hectic holiday season.

Cleaning up becomes a breeze—a quick wash and these beauties are ready for an encore. They can withstand high temperatures, making them perfect for a range of recipes. The durability of stoneware aligns with the enduring memories we create during festive celebrations, ensuring these pieces become heirlooms passed down through generations.

Handcrafted in Wisconsin, Loved Everywhere

Our ceramic bakeware isn't just a local delight; it has earned accolades from customers near and far. The magic of these handmade pieces crafted in Wisconsin has reached kitchens everywhere, creating a buzz of excitement in the culinary community. Countless 5-star reviews echo the sentiments of those who have experienced the benefits and beauty of these functional works of art.

As we embark on this holiday season, we invite you to bring the magic of ceramic bakeware to your kitchen. Elevate your culinary creations, set a table that tells a story, and create memories that, like our stoneware, withstand the test of time. The Fall Harvest motif is ready to weave its enchantment into your holiday traditions—try it for yourself, and let the magic unfold.
In the spirit of the season we'd also love to share one of our favorite recipes with you, our Zucchini Loaf - it bakes perfectly in our loaf pan and as your guests enjoy the tasty delight they'll begin to see the Harvest motif appear at the bottom of the vessel...Treat yourself to homemade delights crafted from a recipe steeped in love.
Enjoy and don't forget to leave your comments for us to read as well.