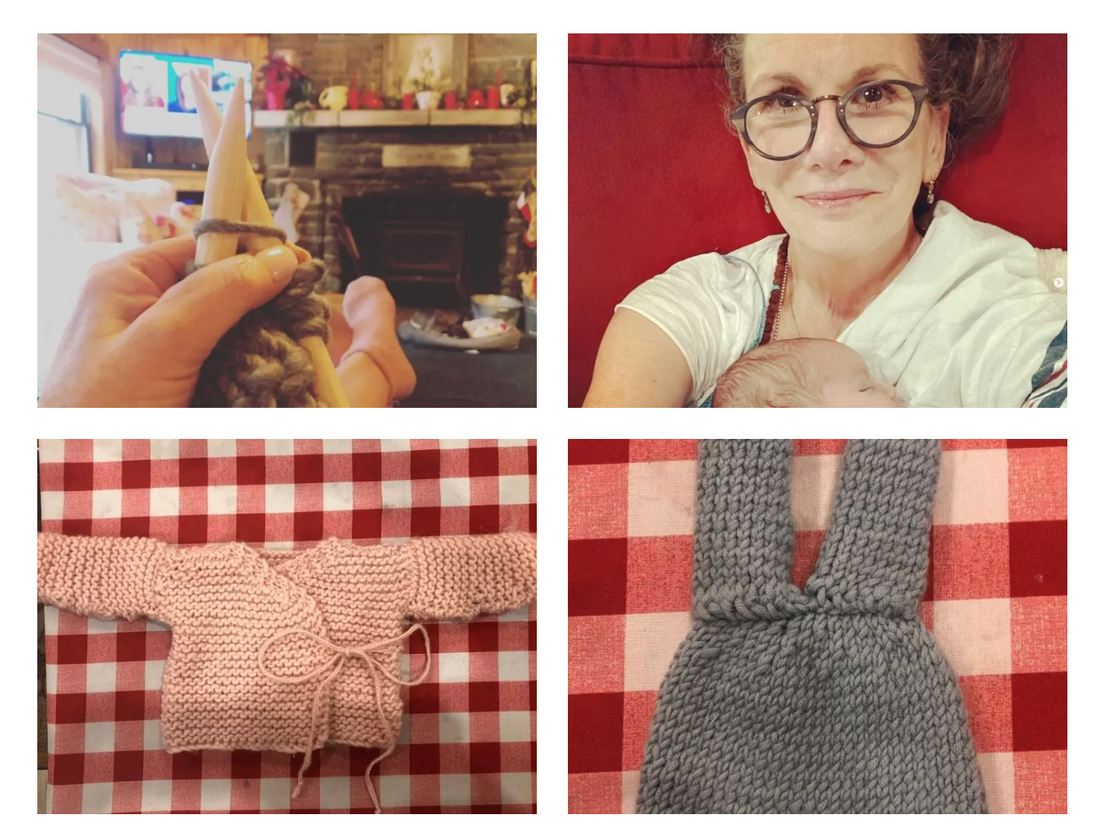 The Surprising Health Benefits of Knitting
Have you always wanted to learn to knit, but felt overwhelmed? We know how you feel, but did you know that there are quite a few health benefits that accompany learning and practicing the art of knitting? 
"I have officially gone from a red-haired ingénue wearing designer clothes, riding in limousines and letting people walk all over me to a gray-haired granny on a recliner, contentedly knitting while wearing socks, and putting up with zero BS."

- Melissa, Back to the Prairie
1. Knitting reduces stress.
Knitters find they can escape into the sanctuary of a quiet mind while focusing on the mindful repetition of knitting.This benefit of reducing stress and anxiety is number one for a reason! The relaxing act of knitting has been proven in many studies to help calm the mind and ease symptoms of stress, anxiety, and even depression. Research has found that knitting helps calm the mind because, while the act of knitting is peaceful and repetitive, it also requires concentration that keeps the mind engaged. Another interesting aspect of knitting that helps with stress and anxiety is that it keeps the hands busy, while the texture and colors of yarn help to improve the mood.
2. Knitting can help improve the memory and sharpen focus skills.
Did you know it has been scientifically proven that the act of knitting requires the brain to use its memory actively, which stimulates neurons and keeps them healthy? Knitting also requires a lot of counting and occasional multiplying and measuring.

3. Knitting encourages community!
Knitting is once again, a very social activity which is good for the mind AND the soul. Knitting in a social setting, even if you are in an online group, promotes a sense of connection. Having knitting as a common interest makes it easier to expand social circles, and allows people to share their creations with each other. 
4. Knitting can boost self-confidence.
As we mentioned before, getting started with knitting may seem a bit overwhelming, but you know what? It's worth it, and it really isn't as complicated as it may seem. Once you get the basics down, a whole new world opens up and you can begin to hone you skills and get creative. Mastering knitting techniques, following patterns for new creations, and finishing projects feels good, and it is something you should be proud of!
5. Knitting is a good way to give back to your community.
One of the most rewarding aspects of knitting is knitting for other people, (or animals!). Being able to gift a knitted item to someone you love or someone in need brings a tremendous sense of well-being and purpose. Blankets, scarves, and mittens are always in demand when the weather gets cold, and it feels good to give!
We'd love to help you get started on your healing and happy knitting journey with a list of our favorite (women-owned) knitting teachers!
Their mission is to inspire the next generation of makers through reinvention of the craft experience!
ALL FOR ONE AND ONE FOR WOOL – they make sure they create crafty spaces where everyone feels welcome.  That means making sure their patterns fit every size and shape, their customers see themselves reflected in their photography and their products are accessible for a range of abilities.
Click here to learn more about Wool and the Gang
They're always looking for new knitters – and believe an idea means nothing if it is not completed.  
CHANGING THE WORLD ONE STITCH AT A TIME.
Their kits include everything you need to create your project: the fibers, tools, and step by step instructions guiding you through all the processes.
Choose your technique and kit, customize your colors and start creating!
A Yarn sanctuary for a nation of knitters – 
The heart of their business is and always has been a community of crafters. 
Inspired by traditional fiber arts, modern design, and nature's creations, the real beat that keeps them going is their customers. That feeling of fulfillment that comes from making with your own two hands? They want that for you! From color advice to fiber recommendations, from video tutorials to one-on-one troubleshooting, they're here for you every step of the way.
Click here to learn more about Purl Soho!