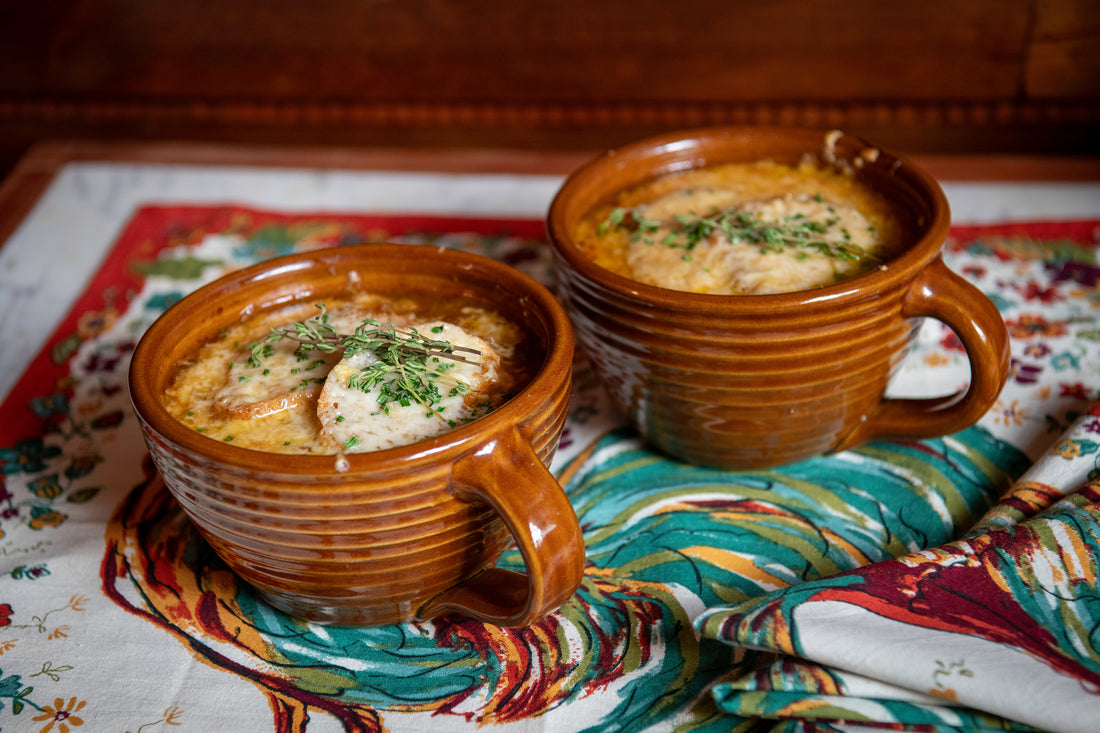 The Perfect Pairing: Savoring the Ultimate Comfort with French Onion Soup in Our Timeless Ceramic Porringers
In the world of culinary delights, some pairings are simply meant to be – and when it comes to the ultimate comfort food, French Onion Soup takes center stage.  Picture a steaming bowl of savory goodness, lovingly prepared to perfection. Now, imagine experiencing this culinary symphony in our hand-formed
ceramic porringers
, meticulously crafted in the heart of Wisconsin. These porcelain gems are more than bakeware; they are an invitation to elevate your dining experience and create lasting memories. Join us on a journey where the perfect pairing meets the essence of comfort, all served in the timeless embrace of our Wisconsin-made ceramic porringers.

French Onion Soup, a timeless classic, is a masterpiece of flavors and textures. Caramelized onions, rich broth, and a golden crust of melted cheese create a sensory experience that transcends the ordinary. It's the quintessential comfort food, a warm hug for your taste buds.

Enter our hand-formed ceramic porringers, born from the skilled hands of Wisconsin artisans. Each porringer is a testament to craftsmanship, carefully molded to stand the test of time. Their unique charm lies in their imperfections, a reminder of the hands that shaped them with love. These porringers are not just bakeware; they are an heirloom in the making.

Wisconsin, renowned for its artisanal traditions, serves as the birthplace of our ceramic porringers. The rich clay that is used in our Rowe Pottery pieces lends a distinctive quality to our bakeware, ensuring durability and exceptional performance. It's a marriage of art and functionality, bringing you bakeware that's as reliable as it is beautiful.
Our
ceramic porringers
are crafted to become your go-to bakeware essential. Whether you're a seasoned chef or an aspiring home cook, these vessels are designed to enhance your culinary adventures. Their versatility extends beyond French Onion Soup – explore a world of possibilities, from casseroles to desserts, with these timeless kitchen companions.

To complete this perfect pairing, we invite you to savor French Onion Soup with Chef Cheryl's signature recipe. Her culinary expertise, combined with the artistry of our hand-formed porringers, promises a dining experience that transcends the ordinary. Find the recipe below and embark on a journey of comfort and culinary bliss.

French Onion Soup                                                            
Fills 4 Modern Prairie Cinnamon-Glaze Porringers

Ingredients:
4 tablespoons unsalted butter, plus more for the toast                                           
3 pounds yellow onions, about 9 medium, cut into thin slices
Kosher salt and freshly ground black pepper                                                         
½ cup dry sherry or white  wine
3 quarts beef stock                                                                                            
2 sprigs thyme                                                                                                         
2 bay leaves                                                                                                           
2 teaspoons cider vinegar                                                                                       
8 slices rustic bread, toasted until crisp
2 cloves garlic, peeled                                                                              
½ pound Gruyere cheese, grated (okay to substitute Swiss Cheese)            
Fresh minced chives or parsley, for garnish          
Procedure:
1.     In a large stainless-steel saucepan, melt butter over medium-high heat until foaming. Add onions and cook, stirring occasionally, until softened, about 8 minutes. Lower heat to medium-low and cook, stirring frequently, until onions are very sweet and a rich golden-brown color, about 45 minutes.  If browned onion juice on the bottom of the pot threaten to burn, add 1 tablespoon of water, scrape up the browned bits, and continue cooking. Season with salt and pepper.

2.     Add sherry and bring to a simmer, scraping up any browned bits. Cook until the alcohol smell is mostly gone, about 3 minutes. Add stock, thyme, and bay leaf, raise heat to medium-high and bring to a simmer. Lower heat and simmer for 20 minutes.

3.     Add cider vinegar and season with salt and pepper. Discard thyme stems and bay leaves.

4.     Preheat broiler and position oven rack to top position. Butter toasts and rub with garlic clove until fragrant. Spoon two ladlefuls of broth into the bottoms of 4 porringers, then top with half the toasts. Sprinkle some grated cheese on top of toasts, then spoon more soup and onions on top, nearly filling the bowls. Set the remaining 4 toasts in each bowl, pushing to nearly submerge them. Top with remaining grated cheese and set bowls on a rimmed baking sheet. Broil until cheese is melted and browned in spots. Garnish with chives or parsley and serve.

As you savor the rich flavors and aromas, may these porcelain gems become cherished companions in your kitchen, promising a future filled with warmth, comfort, and the joy of shared meals. Bon appétit!